Van Nuys High School
Home of the Wolves!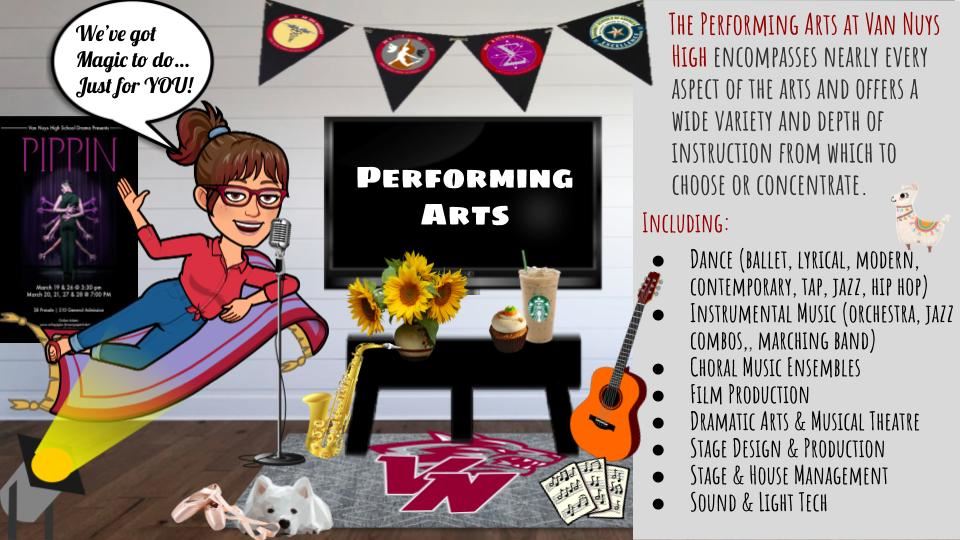 The Performing Arts Magnet fosters innate talent and encourages the pursuit of excellence in a wide variety of creative opportunities including dance, theater, voice, music, film, set design and stage tech. Magnet students learn to create, collaborate and take risks through classroom instruction and performance. Whether students pursue a particular art form as a profession, personal passion, or appreciative audience member, their world view is both expanded and challenged as they embrace diverse cultures and ideas from the classics to contemporary artists. Our students experience the arts beyond the campus and are superbly prepared to enter the most esteemed university programs in the country.

Consistently ranked as one of America's Best High Schools, Van Nuys HS has one of the largest Advanced Placement programs in the state with consistently high exam pass rates in LAUSD. Since 1995, our SAT scores have remained amongst the highest in the district, according to US News and World Report. Van Nuys is a Silver Academic Achievement school. We are exceedingly proud that our graduates are regularly accepted into the most competitive universities in the nation. There are many opportunities for students to have a well-rounded educational experience, preparing them for future success.