Van Nuys High School
Home of the Wolves!
Attention 2020-2021 AP Students!

UCLA AP Readiness begins THIS WEEKEND!

As an AP student, you are invited to attend the AP Readiness STEM Program and/or AP Readiness HUMANITIES Program. You are welcome to register for BOTH STEM & HUMANITIES if you choose. These special sessions on specific AP courses will be held on UCLA Virtual Platform on Saturdays from 8:30 AM to 1:00 PM once a month from September through April.

STEM: Biology, Chemistry, Environmental Science, Physics, Calculus, Statistics, Computer Science Principles

DATES: September 12, October 24, November 14, December 12, 2020 (First Semester) and January 30, February 27, March 20, and April 17, 2021 (Second Semester)

Humanities: English, Psychology, Spanish, U.S. History, World History and U.S. Government

DATES: September 12, October 17, November 7, December 12, 2020 (First Semester) and, January 23, February 20, March 13, and April 17, 2021 (Second Semester)

You can only participate in one AP Readiness STEM subject and/or one AP Readiness HUMANITIES subject. If you are taking multiple AP classes, you must choose one STEM and/or one HUMANITIES to focus on for this program. You are welcome to attend both STEM & HUMANITIES.

Students who are eligible to participate must:

Be enrolled in the appropriate AP or honors course in the fall
Get approval from a parent or guardian to attend UCLA Virtual Platform & follow all the rules and conditions of the AP Readiness Program, LAUSD or Compton USD.
Be willing to attend Virtually on Saturdays and study for 4 hours
Furnish your own supplies & technical equipment.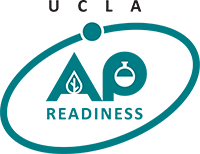 Register Now for UCLA AP Readiness Program